Sprinter Cargo Vans in Utah County
A large cargo area is good.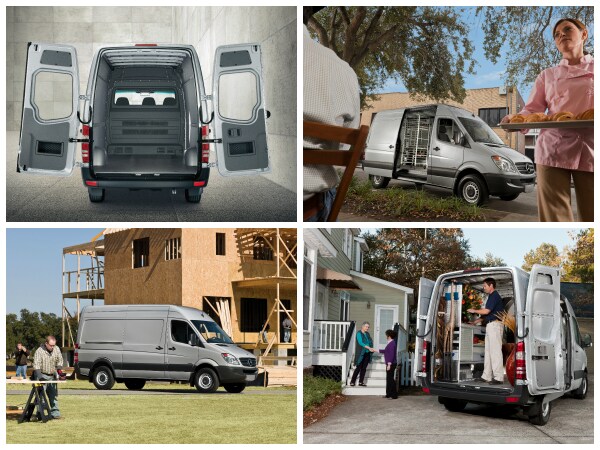 But a large cargo area in which you can work standing up is even better. Say hello to the Sprinter Cargo Van. With headroom of up to 78.2 inches (in base configuration), you've got the freedom of movement you need for fast loading and unloading.
You can also pack a lot into your Sprinter with its spacious cargo area that can be loaded with up to 5,358 lbs. of cargo. Sprinter gives you all the options you need to reliably secure this extra load. Simply put, no other van in its class can match it.
Sprinter's hallmark is versatility 
The Sprinter Cargo Van gives you many choices: two wheelbases, three body lengths, two cargo area heights, three gross vehicle weight classes, and a wide range of optional equipment that allow you to meet almost any requirement. 
And should you need to transport a crew as well, the Sprinter Cargo Van with lateral quarter windows in the cargo area and a removable, optional, rear seat bench is just the ticket. In this configuration, it offers room for up to six people, without compromising the Sprinter's hallmark versatility.
The more you deliver, the more it delivers 



Made for commercial use, the Sprinter Cargo Van features Best-In-Class* cargo space of up to 547 cu. ft. Powered by a BlueTEC® clean diesel engine, the Cargo Van helps businesses go the extra mile to deliver the goods.
Start planning bigger deliveries with your Mercedes-Benz of Draper Sprinter Cargo Van!
Next Step:
Contact us to find the right van for you.
*Based on a comparison of Automotive News classification of full-size commercial vans.