The Beast from the Green Hell: Mercedes-AMG® GT R
If there were ever a time that bragging rights were appropriate, this would be it and believe you us; we are capitalizing on it. We are proud to be the only dealership in the state of Utah to be given the new 2018 Mercedes-AMG® GT R.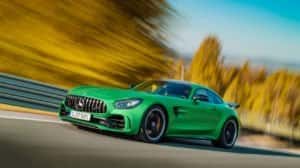 Nicknamed "the Beast from the Green Hell" after the Nürburgring track where the passionate engineers developed it at AMG®. The GT R was made to be a track car, designed to look like a show car. With an adrenaline boosting, handcrafted AMG® 4.0L V8 Biturbo engine that pumps at 577 hp and 516 lb-ft of torque, giving this showroom car the power to go from 0-60 mph in 3.5 seconds; topping out an eye-watering 198 mph. With this kind of power and speed, the 9 level AMG® TRACTION CONTROL right at your fingertips in the center console allows you, the driver, to stay in control no matter what the road conditions are like.
The Mercedes-AMG® GT R we have isn't green, making it difficult to believe that it could be a beast from Green Hell, but we are confident that it will still make one driver very happy.