Mercedes-Benz Fuel & The Environment
Back to WHY BUY A MERCEDES-BENZ
Blue-sky thinking. Down-to-earth results.
Long before it became front-page news, Mercedes-Benz has been innovating and implementing new ways to help minimize the impact of cars and trucks on the world we share. It's a promise that's been kept for generations, and not just with cleaner, more efficient power under the hood.
It starts well before a Mercedes-Benz travels its first mile, and extends beyond its long and reliable lifespan. And like every aspect of Mercedes-Benz innovation, it sets the stage for the mobility, and the world, everyone will enjoy tomorrow.
Fueling the alternatives
The future of the automobile will not occur all at once, or in one form, but from a diversity of progressive innovations. Here are some of the ways Mercedes-Benz is reinventing the automobile today.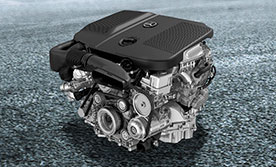 Improving internal combustion
Advancements in our gasoline and BlueTEC® clean diesel vehicles, from advanced fuel injection to reduced vehicle weight, allow smaller engines to deliver more power with higher mpg and lower emissions.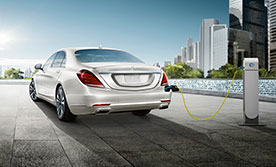 Individually tailored hybrids
From our new ECO-START® / Stop function to our advanced plug-in hybrids with full electric capability, numerous supplemental innovations further reduce the fuel consumption and emissions of conventional-fuel engines.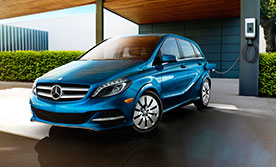 Zero-emissions driving
Our B-Class Electric Drive leads the charge in zero-emissions driving, and all of our plug-in hybrids include customizable drive modes, one of which is an all-electric mode.
Plug-In Hybrid: Far-reaching benefits.
Immediate rewards.
Mercedes-Benz plug-in hybrid vehicles offer the unique benefit of both high fuel efficiency and high performance.
Inspiration—and technology—comes directly from our championship-winning F1 racing team because it is constantly innovating to build faster, lighter, and more efficient cars.
And our lineup of no-compromise plug-in hybrids is growing rapidly, with all with the safety, luxury and performance leadership you expect from Mercedes-Benz.
In-Home Energy Storage
Accelerating the energy revolution.
Coming soon to the US market, Mercedes-Benz Energy uses the same battery technology as our hybrid and electric vehicles to create state-of-the-art storage solutions for homes and businesses.
That means more protection against fluctuating energy costs, greater optimization of renewable energy, and a smoother transition to a clean energy future.
Flexible Fuel Vehicles
Adaptable. Renewable. And available now.
A Mercedes-Benz Flexible Fuel Vehicle (FFV) gives you a choice in fuels whenever you pull up to the pump.
You can use gasoline or, without a single adjustment to the car, fill it up with E85 Ethanol, a widely available fuel that's 15 percent gasoline and 85 percent ethyl alcohol (ethanol).
Derived from corn and other grains, ethanol is a locally produced, renewable resource that can reduce greenhouse gas emissions by up to 70 percent.
Available for: CLA, E, GLE
Disclaimer: The 2012 C 300 4MATIC® Sedan, C 350 Sedan, E 350 Coupe, E 350 4MATIC® Coupe, E 350 Cabriolet, and ML 350 4MATIC® are available with the FFV option. Fuel economy while using E85 may be significantly lower than using premium gasoline. Since the FFV option is not available in all states, please ask us to determine availability.
Clear Commitment
Earth-friendly. Before it was trendy.
For generations, Mercedes-Benz has been breaking new ground to help preserve the earth for future generations.
We introduced the first 100% CFC-free car and the first low-emissions SUV. We've been recognized for our award-winning factories and processes. And we've helped to develop local infrastructures around the world that will bring a greener tomorrow to life.
It's a multi-faceted approach to advance the quest for sustainable mobility while leading the way in safety, luxury and performance.
Driving a cleaner tomorrow.
As with every aspect of Mercedes-Benz innovation, the global benefits come from a unique combination of intense devotion and extensive diversity. Mercedes-Benz of Draper embraces this goal with every interaction, and we're happy to show you all that the brand has to offer to help the environment.
We're to showing you The Luxury of Experience in everything we do and offer and look forward to serving you.